The Housing Authority of the City of Los Angeles (HACLA) provides housing and other programs for low income families in the greater Los Angeles area. With 75,400 unites, and a plan to increase by another 30,000 units in the next ten years, it is vital for HACLA to have reliable transportation at their disposal.
Lilian Choy, Special Programs Coordinator for the Housing Authority of the City of Los Angeles, had the following to say about their choice of Columbia vehicles to fulfill their needs, "They meet the HACLA's needs for transportation of maintenance staff and their tools and equipment from unit to unit at HACLA properties." Ms. Choy also commented that the vehicle durability and Columbia's ability to help solve the need for replacement and new vehicles were also determining factors in choosing Columbia.
HACLA chose to purchase their fleet of vehicles from Columbia on the U.S. Communities contract for multiple reasons, one of which was the no-hassle contracted pricing offered through the U.S. Communities program. Columbia is also the vehicle of choice when it comes to green solutions. With zero tailpipe emissions and a lower maintenance cost than that of a traditional combustion engine, Columbia vehicles can save an average of $360 per vehicle per year!
The Summit Utilitruck with a special, heavy duty gate is the solution for the HACLA. This utility vehicle allows for two passengers and a box durable enough to haul refrigerators and furniture, yet versatile enough to handle maintenance needs. The versatility of the Columbia Summit Utilitruck make it ideal for use by housing authorities such as the HACLA.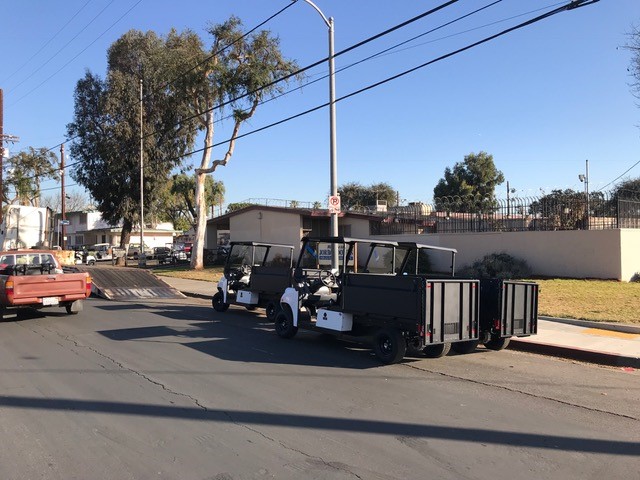 More About U.S. Communities
U.S. Communities is the leading national government purchasing cooperative, providing world class government resources and solutions to local and state government agencies, school districts (K-12), higher education institutions, and nonprofit organizations. U.S. Communities was founded in 1996 as a partnership with National Sponsors. Today, their National Sponsors include the Association of School Business Officials, the National Association of Counties, the National League of Cities, the Unitied States Conference of Mayors, and the National Governors Association. U.S. Communities is the first cooperative purchasing program to earn teh NIGP Accredited Cooperative (NAC) accredidation. More than 55,000 registered agencies, educational institutions and nonprofits utilize U.S. Communities contracts to procure more than $2.3 billion in products and services annually.
For more information please visit www.uscommunities.org.
More About Columbia
Based in Reedsburg, WI, Columbia is a premier electric vehicle manufacturer whose history dates back to 1946. Columbia has one of the most expansive vehicle product line-ups in the world, producing electric vehicles for private use as well as commercial and industrial applications that include models that move from 1 to 24 people, carry up to 6,000 pounds and travel up to 25 miles per hour.
Columbia Vehicle Group Inc. is a member of the Nordic Group of Companies, Ltd.. Nordic Group (headquartered in Baraboo, WI) is a privately-held holding company consisting of subsidiaries with 22 facilities, and 24 marketing units around the world with over 2,400 associates. Nordic Group member companies manufacture and distribute plastics, seating, and transportation products worldwide for industrial, commercial and consumer markets.

This Article has also been featured in: