Have you ever been to a large convention or expo? The numbers on conventions/expos in the US are staggering, both in attendees and support staff! According to Exhibit City News, 81-million people attended business meeting events in 2019; additionally, over 6.5-million were employed in the industry! These numbers easily outpace the attendance and employment of the largest US sports leagues, the NFL and MLB!

The backside logistics of events of this magnitude are hard to imagine, and convention center staff need to maximize their efficiency to have any chance of staying on schedule and hosting a seamless event. Convention center staff require creative solutions to serve events of different sizes and durations, and only rugged, durable equipment that reliably serves them with longevity in a fast-paced industry can meet these demands.

The Ideal Convention Center Fleet
Large convention centers are in constant use, generally holding 1-3 events weekly. For example, the San Diego Convention Center will host seven events in June '22, with attendees totaling 175,100 in a single month! The rapid transformation of convention spaces is a logistical nightmare without an experienced team, equipped with the necessary tools. This is where Columbia comes in. With a lineup of rugged electric vehicles engineered to be in constant use throughout the day, convention centers have found great success with Columbia for staff transportation, equipment hauling, and services like ambulance, safety, and security. Columbia offers the lineup diversity to satisfy the numerous tasks required by the various departments at a convention center. Various teams like the Las Vegas Convention Authority call on the Payloader and Expediter as the main pillars of their fleets, thanks to the durability and versatility of these models.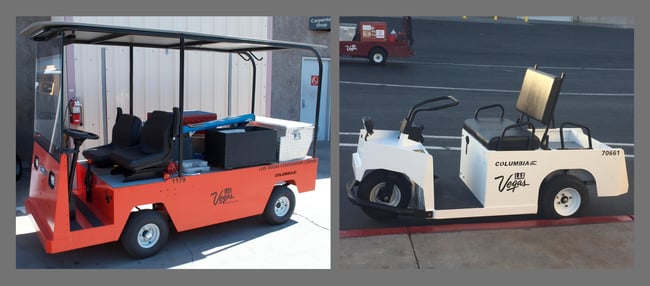 Unique Solutions
Beyond the simple needs of transporting people or carrying loads, convention centers often face unique challenges due to the countless moving pieces at any given time. Columbia's team thrives on creating vehicle solutions for these unique challenges, such as the carpet-puller unit seen below!
This relatively simple solution saves massive time and energy over a long period, allowing the convention team to spend more time on other critical preparation tasks. Columbia's engineering team is always ready to construct a creative solution to increase efficiency and allow large productions like this to run smoothly.
Conventions and Rentals
Columbia's success in the equipment rental industry is also crucial for conventions and expos. Event vendors utilize rental equipment to aid their set-up efforts, helping load and move equipment quickly. The business meeting industry utilizes rentals more than any other service, which makes sense when thinking about the meticulous requirements to successfully prepare and transition so quickly among thousands of vendors and attendees.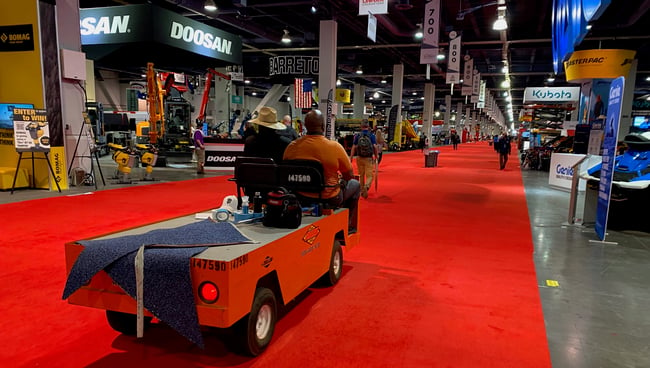 Columbia is thriving in convention centers around the US as large businesses gather together once again. Cities like Las Vegas, St Louis, Raleigh, Charlotte, and more already utilize Columbia! Are you ready to give Columbia's lineup a try? Find out more!