Columbia produces high-performing solutions for colleges and universities for many different teams and tasks. We recently sat down with one of our newest college partners, a large state school in the southwest, to discuss their experience with Columbia.
After some struggles with vehicles from other companies, they looked to Columbia for a dependable fleet option, and recently purchased a fleet of Utilitrucks for their facilities & maintenance team. Columbia crafted these Utilitrucks into a dynamic solution for their facilities & maintenance team. Due to the performance of these new vehicles, they are ordering enough Utilitrucks to nearly double their Columbia fleet.
This college needs a fleet that offers rugged durability, all-day run time, and nimble maneuverability. Before finding Columbia, these needs had previously resulted in issues with some of the other utility vehicle options on the market. One LSV model from another company came with a high price point, but the team soon found that despite the higher cost, there was no increased durability or quality provided. Another less expensive alternative in the LSV market quickly proved to have many issues in suspension, steering, and technology in general. While searching for the vehicle that would provide the quality, durability, and performance required, the facilities & maintenance team demoed a Columbia Utilitruck. They soon found that the Utilitruck excelled in their workspace and would be the solution for their all-day maintenance work!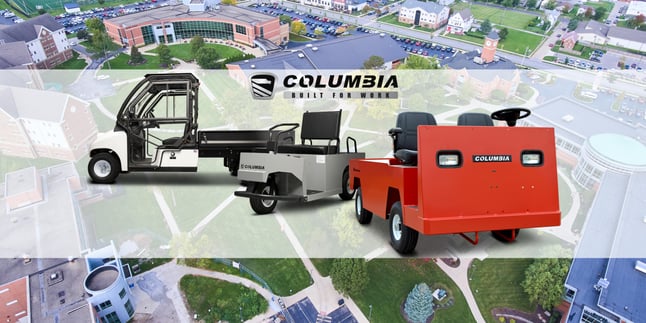 The Facilities & Maintenance team aims to provide one vehicle for every team member. This means each employee spends their day driving their designated Utilitruck around the massive 437-acre campus. Because of this, the team needs vehicles that offer all-day run time, and with overnight charging, that's exactly what they get - vehicles that are ready to work when they are! They also had their Utilitrucks configured to carry specific equipment, such as ladders and tools, so each team member's vehicle acts as their transportation and storage partner at work.
Columbia's Utilitruck is a powerful partner for colleges and universities around the country. The ability to configure the Utilitruck with specific tool storage, passenger capacity, and safety features means that your team will have the vehicle that fits your exact tasks and equipment. This allows you to trust your vehicle and keep the focus on your work. Find out more about our vehicles and what they offer your college campus.