Columbia offers an extensive lineup of electric utility vehicles, for both commercial and industrial uses. One of the most common customer needs is the ability to carry and tow large loads, without compromising maneuverability or ease of use, and the Payloader fits the bill!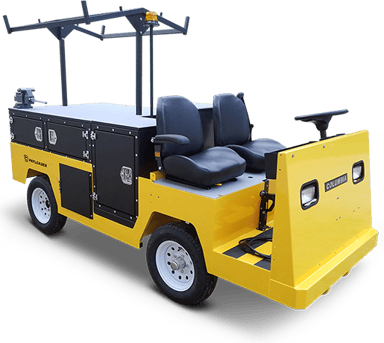 Columbia's Payloader is incredibly powerful and versatile. Whether your needs are simply to carry heavy loads, transport personnel, tow, or a combination of these functions, the Payloader can be curated into the ultimate solution. Let's dig into some of the unique functions that the Payloader has taken on for our customers:
Carrying Cargo:
Any industrial utility vehicle lineup needs a burden carrier workhorse. Columbia's Payloader takes on that role with ease, as it boasts a 2,400lbs standard rated capacity that can be upgraded to 4,000lbs, more than enough for carrying heavy loads of crane rigging equipment at DAB Constructors in Florida!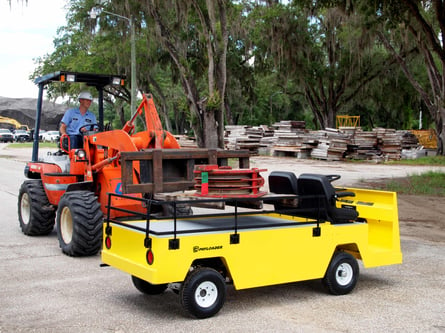 Refuse:
The Payloader's large deck and versatility make it the perfect candidate as a refuse vehicle for custodian services. Your team will be impressed with the performance and ease of use provided by the Payloader refuse options. Santa Monica College relies on our Payloaders to maintain their beautiful campus year-round!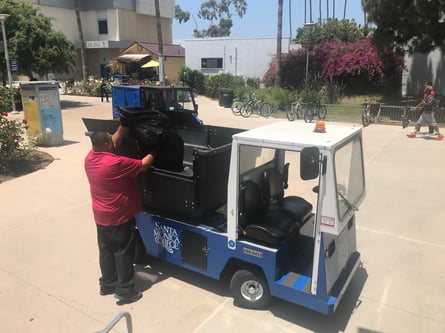 Towing:
The standard payloader outfit offers a 6,500lbs towing capacity; however, the super duty payloader boasts a towing capacity of up to 18,000lbs! This capability can be utilized for virtually any towing requirements your team may have. Columbia's Payloader was entrusted to tow sixteen wine barrels at Kosta Browne Winery in California - a job that would have been extremely tedious and frustrating without a robust electric vehicle to handle the job!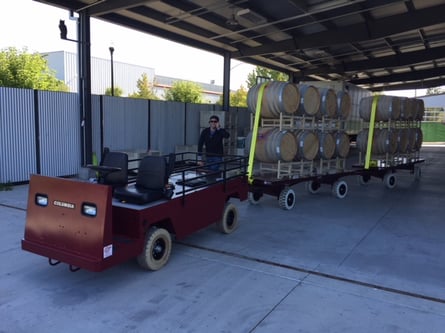 Passenger Transport:
While the Payloader is best known for excelling in carrying cargo and towing loads, it offers incredible opportunities in transporting personnel and guests. Because of the Payloader's increased capacity, it can transport people quickly and efficiently, without adverse effects on performance. The University of Oregon rests easy on game day knowing the dependability of the Payloader won't let them down!
Access our DEALER LOCATOR to find your nearest Columbia inventory!