Columbia is the recognized king of customization in the industrial/commercial vehicle marketplace and has held that distinction for the past 50 years. While other manufacturers mass produce cookie-cutter vehicles on an assembly line, Columbia partners with each customer to determine the best vehicle solution for their needs. It may be a standard unit with specific extras, require a significant design change, or even an entirely new design to accommodate the usage and environment in which the unit(s) will be operating. All of this is driven by our customer-centric vision for Inspired Solutions That Move Our Customers!
Columbia recognizes the importance of supporting our customers branding initiatives. We are the first to offer a full range of co-branding options, including custom paint, which we execute in our automotive quality paint booths. We are the first to offer laser cut panels for select vehicles, as well as heavy-duty vinyl decals. Each of our customers have the opportunity to take advantage of this personalized option today!
Co-branding is only one of many great ways to customize your Columbia vehicle. In this post we are going to give you some insight into how our customized vehicles become more than just an idea.
It all starts when a customer has a need that does not fall under our traditional vehicle solutions. The customer will fill out a Custom Engineered Solution Request and our engineer and design teams then meet and figure out the best modifications or new concepts to solve the customers needs. In this part of the process our team works closely with the dealer to ensure the end users needs are fully met by the vehicle design. Will it need to tow? Haul lots of people? Haul heavy loads? Need a customized tool box? Keep things hot or cold? These are some of the questions that our team considers when designing a custom vehicle order.
Once the needs are narrowed down, our engineer team draws out a proposal. From this the type of materials needed to build the vehicle are decided, then the cost, safety, and durability of those materials are looked at. Based on these things the proposal and its chosen materials are then sent to the dealer to be quoted to the end user. If everything is approved it is sent over to our manufacturing team to be built.
Our manufacturing team creates the vehicle with the chosen materials according to the blueprinted plan. This process involves making new molds for parts, welding and cutting pieces that were previously never made before, and assembling these pieces into the custom engineered design. Our Custom Engineering Orders typically take an additional 2-8 weeks in lead time to ensure all specifications are manufactured correctly, tested to ensure quality, performance, and accuracy. Once all of these things are correct to the blueprint, the vehicle is packaged and shipped to the customer to help them perform the task they needed done.
There are endless examples of custom vehicles that have been designed, engineered, and built by the dedicated teams here at Columbia. The list is quite extensive and includes such unique vehicles as fire suppression, ambulance, enclosed vans, mesh enclosure vans, catering vans, maintenance vehicles with custom tool boxes, and the list goes on. To see these vehicles and more, visit our website at www.columbiausa.com/more/custom-vehicles .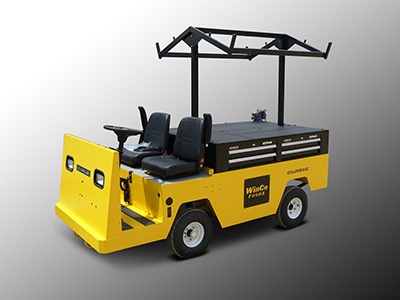 No one in the industry has the capability, experience, or ability to build unique vehicles that meet an individual customers needs like Columbia. Our design and engineering teams are tasked with these challenges every day. And perhaps our real advantage over our competitors is the success of our custom-built manufacturing pods for our industrial/commercial vehicles. We dont have assembly line manufacturing for most of our vehicles. Instead, a dedicated team builds each and every vehicle. We, as a company and as individual team members, are dedicated to providing the right solution at the right price for each customer, fulfilling our vision of Inspired Solutions That Move Our Customers!