Columbia recently completed two custom Expediters for Gundersen Lutheran Hospital in LaCrosse, Wisconsin.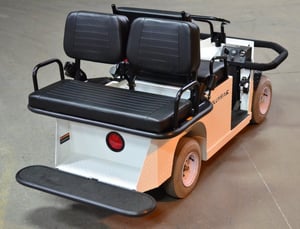 The custom-curated vehicle features a purpose built rear facing seat and seat belts for two passengers (in addition to the driver). It also includes a padded front bumper that matches the width of the rear seat. Gundersen Lutheran's vehicles include the following standard upgrades: maintenance free batteries, an in motion beeper, hour meter, dual front wheels, and non marking tires.
Columbia's local dealer in LaCrosse, International Motorwerks, worked closely with the hospital, carefully evaluating their needs & goals. The hospital was looking for a solution to move patients from their valet drop-off location to various points in the hospital comfortably and efficiently. The Vehicle also needed to be compact as several of the drop-off locations required an elevator ride.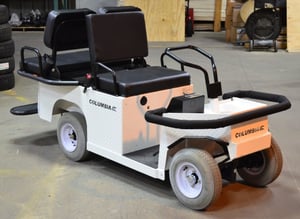 Columbia's Specials Design Team went to work designing a solution that would handle the hospital's needs and fit within the confines of the many elevators within the hospital. After selecting the best available vehicle model and features for this specific environment, Gunderson Lutheran's custom Expediters were produced by Wisconsin's own Columbia manufacturing team. The end result was a custom configured Expediter with a mixture of standard upgrades and custom parts.