What's so special about seating? Aren't seats just something you sit on? You might think so but to us, seating is so much more than just a place to plop your rump! Everyone is a different size and weight, with different preferences, and that's why we think that seat options should be just as diverse and unique as the people who use them!
Columbia takes pride in everything we do, especially things that others may see as mundane. To the average consumer a seat may be the last thing they care about when it comes to their vehicle. They may be more focused on the power, tow capacity, or drive time.
However, the small details make all the difference; you don't know you need an adjustable seat until you want more leg room or can't reach the pedals! Each seat has layered padding covered in marine-grade vinyl for durable protection with maximum comfort and while comfort is definitely important, Columbia thinks about so much more than just leg room!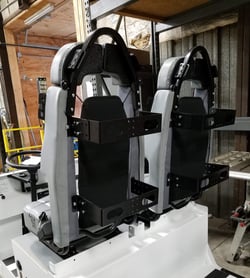 Safety is increasingly important in every industry, which is why Columbia engineers our seats with all the safety features you need (and then some) - we recognize the importance of driver fit when it comes to safety! And that's why practically every seat in our vehicles is adjustable, including the Stockchaser backrest. Also, some of our seats have movable parts. For example, the arm rests on the Payloader play two roles - they provide extra comfort for the driver and also help hold the driver in position while driving. Seatbelts and rails are also installed when needed to add even more safety features to the design of our seats!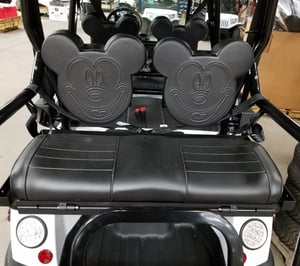 Versatility is another key factor we look at for our vehicle seating options. For instance, the
Expediter can convert to a 2-passenger vehicle in just a matter of seconds! The backrest easily folds down to accommodate a second passenger. We also offer upfit options for all models that can add additional seating, specialized seating such as those needed for emergency vehicles, and adjustable seating for all body types. Versatility isn't just a matter of function either; Columbia can customize upholstery, embroidery and even shapes (think of a special mouse) to fit your needs!
Next time you are looking for a utility vehicle, know that you won't have to sacrifice safety, versatility, or comfort. Columbia's got you covered!