California's Santa Monica College occupies a 38-acre campus on the Pacific coast. To help students, staff, and operations teams get around the sprawling grounds, the college relies on a large fleet of utility vehicles for transportation and equipment moving throughout the vast campus. Previously, the Santa Monica team utilized another utility vehicle manufacturer, but when they compared Columbia vehicles to the vehicles they were using at that time, they found that we offer a much better value!
Santa Monica College was introduced to Columbia in 2019 when it was time to replace its vehicle fleet. They sought a vehicle solution that would last. Columbia stepped in, having recognized that Santa Monica's team was constantly having to repair & replace their vehicles at a rate that was far from cost-effective. Columbia offered more value and durability, and that was just the beginning of the benefits of switching to Columbia.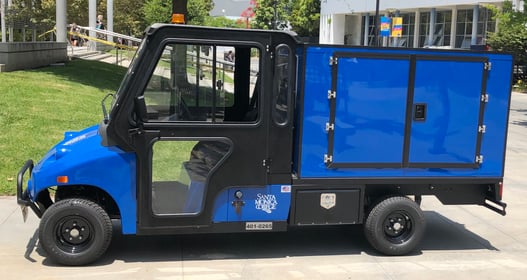 Columbia's field team was able to sit down and meet with each department at the college to get a deeper understanding of their team, their facilities, and their daily tasks. Armed with this information, Columbia was able to engineer tailored solutions for each department specifically, culminating in an application-specific Utilitruck fleet far beyond their original units.
Santa Monica's new fleet consisted primarily of Utilitrucks, which allowed them to drive the campus streets legally while maintaining the ability to carry & store whatever equipment was necessary to get their jobs done.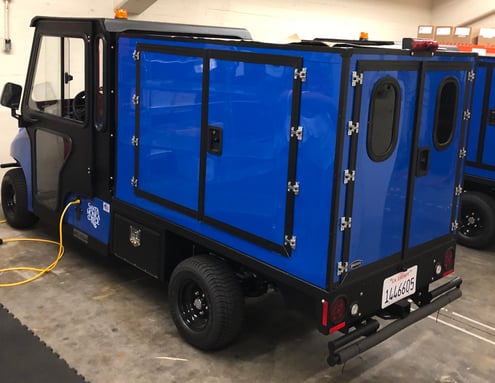 Santa Monica was impressed not only with its Utilitrucks and the tasks they could handle but also was excited to take advantage of the innovative technology offered by Columbia, such as Artemis telematics. With Artemis on board, departments at Santa Monica College can monitor vehicles' past and current locations and battery voltage, and real-time impacts of each and every vehicle. This data allowed Santa Monica College to keep its fleet in optimal shape without unnecessary maintenance checks.
They implemented Artemis telematics to track insightful data about their Columbia vehicles and their performance.
Columbia's Utilitruck is perfectly equipped for your college campus. A street-legal version of the Utilitruck is available, making it perfect for urban campus transportation. The adaptive equipment storage features allow you to find the perfect Utilitruck configuration for your work. Do you have a campus fleet that lacks the durability or versatility that your work demands? Find out more about the Utilitruck and schedule a demo today! https://www.columbiavehicles.com/our-vehicles/utilitruck?hsLang=en-us