Opportunity
Orange County Sanitation District, located in Anaheim, CA, uses utility vehicles that can accommodate a mobile workshop and stand up to a tough environment across acres of land situated just a few miles from the coast, which means that they need heavy-duty work vehicles that can withstand their specific climate. Previously, they'd bought their work vehicles from a Columbia competitor, but found parts and support hard to come by. So when OC Sanitation heard about the success of Columbia vehicles at another Orange County department, they decided that Columbia was the solution to their challenges as well!
Unique Challenges
OC Sanitation's team faced a set of unique challenges in moving equipment and personnel. Team members were typically issued bicycles so they could get around the facilities with adequate efficiency; however, when adding the demand to haul large pieces of electric, mechanical, and welding equipment, they had not yet found an effective solution. Columbia was able to add heavy-duty toolboxes and other storage on OC's fleet to hold the exact equipment needed. Additionally, they hoped to utilize some of their vehicles to outfit with welding units that could be easily removed and hooked up to a crane. Columbia took all of these specifications and curated a fleet of versatile, reliable custom Payloaders.
Solutions
Once OC Sanitation saw Columbia vehicles at work during an on-site evaluation and demonstration, they were able to work with us through our Custom Engineered Solutions process to tailor the Payloader to meet their exact needs. When OC Sanitation received their first Columbia fleet, it looked like the vehicle solutions worked, but we partnered with their team to identify some on-site adjustments that would maximize their fleet's performance and efficiency. Columbia then put a plan in place, and a team traveled to California to modify the vehicles.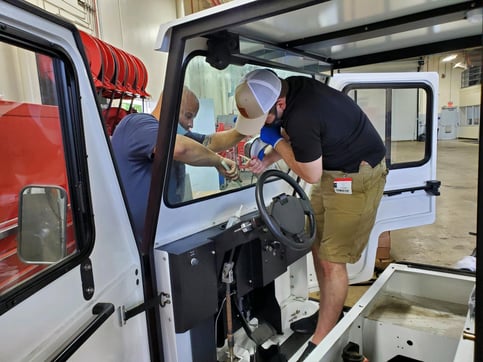 Always Improving
After a number of months in use, OC Sanitation was able to get a better sense of how our products perform in their specific environment and passed along recommendations and change requests for future orders. With that information, Columbia was able to fold those changes into OC Sanitation's next, larger order of vehicles, as well as send a team to update the vehicles from the initial order that were already on-site. Columbia continues to cultivate a long-term relationship with OC sanitation as another order is already in the works.