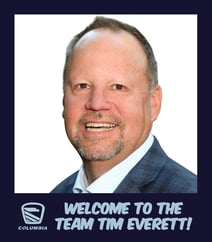 Columbia is proud to welcome Tim Everrett as the newest addition to our sales team! With nearly 25 years of experience in the material handling industry, Tim will push our dealer development efforts to new heights as we continue to expand our distribution channel. "I am excited to roll out new programs and training endeavors to our new and existing partners with Tim's help," Said Travis Meireis Columbia's National Sales Manager.
Tim will be working to help Columbia maximize sales efforts in intentional relationships with our dealers, and using his experience with dealers to help optimize the representation of the Columbia brand in the field. Scott Breckley, Columbia's President said, "Tim's passion for our markets motivates him to ensure Columbia's customers' needs are met in every facet."
Adding Tim to the sales team is just another effort in Columbia's mission to cultivate relationships that aid our partners in their success at work. Find out more about Columbia and how we can build a relationship around your needs below.
---
More About Columbia
Based in Reedsburg, Wisconsin, Columbia is a premier electric vehicle manufacturer whose history dates back to 1946. Columbia has one of the most expansive electric vehicle product line-ups in the world, producing electric vehicles for private use as well as commercial and industrial applications that include models that move from 1 to 24 people, carry up to 6,000 pounds of payload, tow up to 16,000 pounds and travel up to 25 miles per hour. To learn more about Columbia, visit http://columbiavehicles.com/.
Columbia Vehicle Group, Inc. is a member of the Nordic Group of Companies, Ltd. Nordic Group (headquartered in Baraboo, Wisconsin) is a privately-held holding company consisting of subsidiaries with 22 facilities, and 24 marketing units around the world with over 2,400 associates. Nordic Group member companies manufacture and distribute plastic, seating and transportation products worldwide for industrial, commercial and consumer markets. For more information, visit www.nordicgroup.com.