In an effort to continue developing Inspired Solutions That Move Our Customers, Columbia has partnered with Innovative Equipment.
Innovative Equipment is a Wisconsin-based company that focuses on reinventing the material handling world through upfitted removable scissor lifts, dump boxes, and more. Innovative Equipment wanted to find a way to save companies money on overhead without sacrificing the tools needed for their workers. What a better way to do this than to have one tool that can complete multiple functions.
The Columbia Payloader and the UTX scissor lift and dump box are the solution. With the upfit, the Payloader can easily switch between either a dump box, flatbed, or the UTX scissor lift by a single person in 5 minutes time. By adding the Payloader with this upfit to your fleet, it's like having 3 vehicles in one!
The Payloader and its upfitted UTX lift and dump box can also save storage space for what would otherwise be three separate vehicles. But, that's not the only savings this trio offers. This upfitted combo costs about the same as a single gas lift but could save you upwards of $17,000 in initial investment costs!
Columbia and Innovative Equipment make smart sense as they partner to bring even more innovative solutions to the market.
More

About Innovative Equipment

"We at Innovative Equipment have developed products to make the utility vehicle more versatile. These products are engineered to save money on equipment overheads. The tow products below work very well with the Columbia Payloader." Marc Dack, President of Innovative Equipment.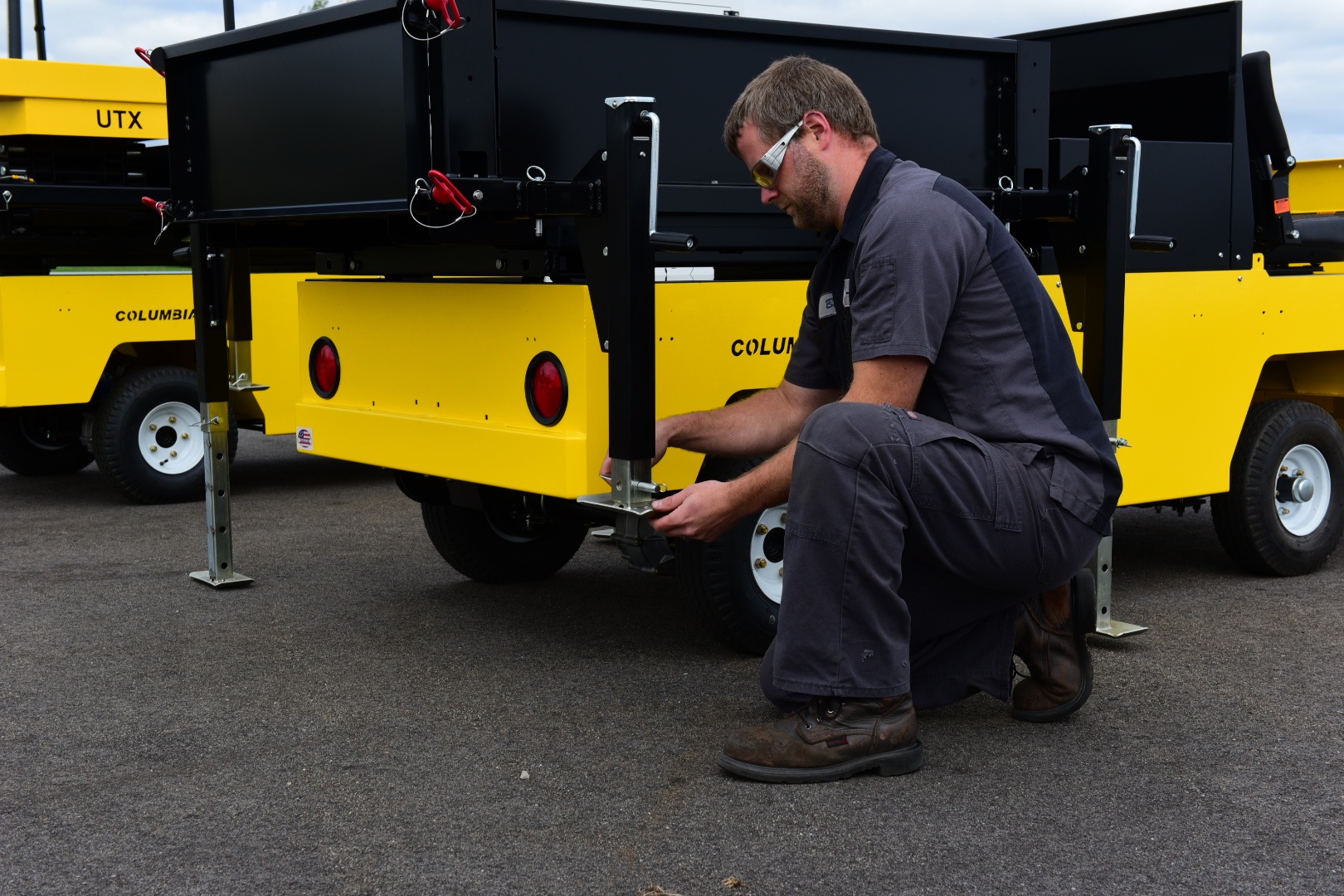 The UTX scissor lift is designed to be easily fitted and removed in under 5 minutes without any heavy lifting. It lifts 500-600 lbs. to a working height of 18-19 feet on nearly any terrain and can be used on slopes of up to 12 degrees. It enables users to take a scissor lift where no scissor lift has gone before as fast as the Payloader can go.
The UTX scissor lift is manufactured and tested to ANSI 92.3 - 2006 and has stabilizing jacks that fix it to the ground. Stability testing, on the Columbia Payloader, has shown the product to be up to five times more stable than the ANSI standard requires. It also has safety features that will not allow it to be used in unsafe conditions. The UTX scissor lift is curently in use at international airports, municipalities, golf courses, factories, construction sites, hunting ranches, and by videographers.
We have also designed and manufactured a slide-on, slide-off 2,000 lbs. capacity dump box that requires no heavy lifting to remove and switches out with the UTX scissor lift in under 5 minutes.