Both companies touted the NexSys® battery option and their growing relationship at Columbias recent Partner Conference in Las Vegas.
Columbia Vehicle Group, Inc., a leader in electric work vehicles and EnerSys® (NYSE:ENS) are pleased to announce that premium NexSys® Thin Plate Pure Lead (TPPL) batteries are now available as a factory-installed option for Columbias range of electric utility vehicles.
Representatives from both companies unveiled the news at Columbias Partner Conference, held November 13-15 in Las Vegas, Nevada. The arrangement makes Columbia the first electric utility vehicle OEM to offer NexSys® batteries as a factory-installed option.
We are proud to recognize our growing relationship with Columbia and very pleased that theyve made our NexSys® battery solution easier for their customers to select and use, said Tim Wittig, national sales manager at EnerSys.
NexSys® batteries deliver three times the lifecycle of conventional sealed batteries, offering a flexible, virtually maintenance-free energy solution for heavy-duty electric utility vehicles. The rugged construction of NexSys® batteries features Absorbed Glass Mat (AGM) separators for extreme shock and vibration resistance, making them well suited for heavy-duty, high-use applications. Classified as non-spillable electric storage batteries, NexSys® TPPL batteries are constructed with 99 percent pure lead and provide unmatched performance across a wide range of temperatures, also making them ideal for cold storage applications.
Columbia is constantly looking for relationships that allow us to offer our customers innovative solutions that solve their most demanding transportation needs, said Scott Breckley, president at Columbia. EnerSys is exactly that kind of company, and NexSys batteries® are just that kind of solution."
Installing the NexSys® batteries at the Columbia factory will ensure the proper integration of several vehicle sub-systems and components. For example, chargers and algorithms will be matched to selected blocks to deliver the proper charge rate. Controllers on vehicle traction drive systems will be re-programmed to enact creep mode to guard against over-discharge. Battery trays, hold-downs and wiring will all be properly configured to ensure optimal battery performance.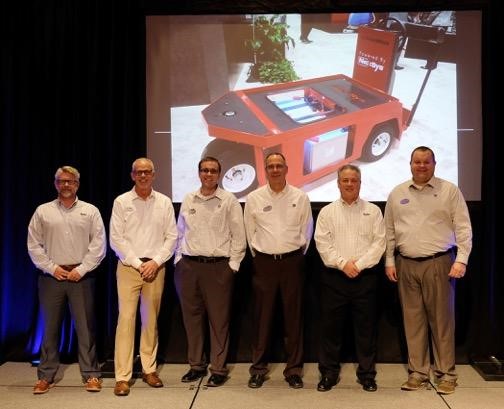 Greg Breckley, director of business development at Columbia added: Collaborating with a pioneer in the battery industry to offer an energy storage solution that increases reliability and reduces total cost of ownership directly from the factory is what sets Columbia apart from its competition."
Depending on battery ampere hours and the charger, NexSys® batteries can be fully recharged in as little as two hours and are designed for opportunity charging multiple times per day. Resulting benefits include long battery life and reduced Total Cost of Ownership (TCO). NexSys® batteries have a shelf life of up to two years at 68˚F and typically occupy up to 30 percent less space than the equivalent lead-calcium batteries due to the thin plate designs high energy density properties.
For more information on EnerSys and its full line of products, systems and support, visit www.enersys.com.
ABOUT ENERSYS®
EnerSys, the global leader in stored energy solutions for industrial applications, manufactures and distributes reserve power and motive power batteries, battery chargers, power equipment, battery accessories and outdoor equipment enclosure solutions to customers worldwide. Motive power batteries and chargers are utilized in electric forklift trucks and other commercial electric powered vehicles. Reserve power batteries are used in the telecommunication and utility industries, uninterruptible power supplies, and numerous applications requiring stored energy solutions including medical, aerospace and defense systems. Outdoor equipment enclosure products are utilized in the telecommunication, cable, utility and transportation industries, and by government and defense customers. The company also provides aftermarket and customer support services to its customers from over 100 countries through its sales and manufacturing locations around the world.
ABOUT COLUMBIA VEHICLE GROUP, INC.
Based in Reedsburg, Wisconsin, Columbia is a premier electric vehicle manufacturer whose history dates back to 1946. Columbia has one of the most expansive electric vehicle product line-ups in the world producing electric vehicles for private use as well as commercial and industrial applications that include models that move from 1 to 24 people, carry up to 6,000 pounds of payload, tow up to 16,000 pounds and travel up to 25 miles per hour.
Columbia Vehicle Group, Inc. is a member of the Nordic Group of Companies, Ltd. Nordic Group (headquartered in Baraboo, Wisconsin) is a privately held holding company consisting of subsidiaries with 22 facilities, and 24 marketing units around the world with over 2,400 associates. Nordic Group member companies manufacture and distribute plastic, seating and transportation products worldwide for industrial, commercial and consumer markets. For more information, visit www.nordicgroup.com
Photo caption: Pictured, from left to right: Tim Wittig, national sales manager, EnerSys Block Product; Scott Breckley, president & COO, Columbia Vehicle Group; Greg Breckley, director of business development, Columbia Vehicle Group; Al Balk, aftermarket sales director, Columbia Vehicle Group; Ed Rawe, senior sales engineer, EnerSys; Travis Meireis, national sales manager, Columbia Vehicle Group.