2020... just over seven months in, yet it feels we've all faced a decade's worth of challenges and change. As the return to school approaches, Columbia wants to support all of your school staff and students around the country, no matter what "back to school" looks like in your area. In addition to our pre-packaged, Mission Ready Campus Vehicles, we have also added two new Mission Ready Sprayer Vehicles, equipping your staff to create a cleaner and safer school campus.
Mission Ready Campus Vehicle Lineup
Sprayer: Columbia's custom Sprayer Units will aid you in the fight against Covid-19. The tank will feed to both a handheld sprayer as well as three mounted nozzles on the rear of the vehicle that will spray behind vehicle as it moves. The Journeyman (left) can sanitize any high touch surfaces in any widespread campus areas. The Stockchaser (right) can be used indoors specifically to sanitize the many surfaces that your staff and students interact with on a daily basis, even in tight areas. These vehicles are built fit your needs to both transport your large campuses as well as maneuver in tighter areas and through aisles and doorways.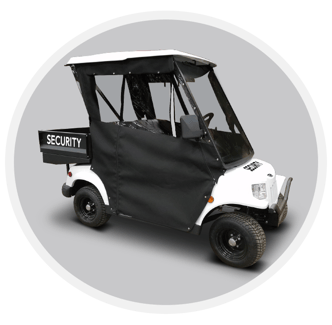 Security: Columbia knows how important safety and security are to you, so our Mission Ready Security Vehicles give your team the confidence to keep an eye on what they need to, no matter the climate or time of day. With an increased capacity, your team's Security Vehicles won't be sidelined with constant charging, and the roof-mounted strobe light and security decaling[ will let others know that your security team is hard at work ensuring everyone's safety. Find out how Columbia's two Mission Ready Security Vehicles can provide everything your security and safety team needs.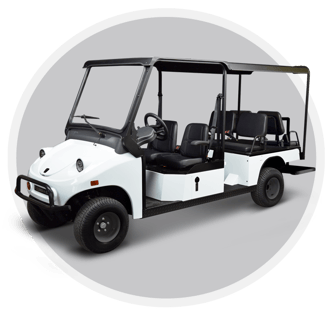 Transport: Columbia's Mission Ready Transport Vehicles are available in two different models. Utilitruck (pictured above) has been perfectly packaged for all your campus transport needs, and will help your essential team save money, time, and effort through its long range and emission free electric power.
Please reach out and find out how we can help equip you to keep your campus clean and safe, no matter what "back to school" looks like for you.