Let's meet Columbia's Chariot! The Chariot is Columbia's smallest transport, designed to transform time wasted by foot into time well-spent on your crucial tasks.

The Chariot is packed with the features you need on the job, starting with its best-in-class sturdy frame of 14-gauge smooth steel. It's also equipped with an efficient 12-volt DC motor, extremely short turning radius, and narrow width of 29 inches, allowing you to glide through a standard doorway!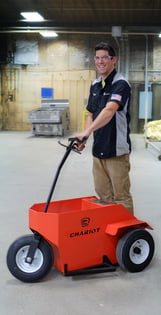 Operators will love the stand-up operation of the chariot, which provides a low center of gravity and higher visibility through busy facilities or tight tunnels.
Popular options include: Reverse switch, Pole mounted strobe light, Hour meter, In-motion beeper, various tire/wheel combinations, and High capacity batteries.
The capabilities of the Chariot don't stop there. As with our entire lineup, Columbia excels in providing custom-engineered solutions specifically for your fleet needs. LEARN MORE about our Chariot today!