Columbia vehicles are tough enough to out-perform the competition yet safe enough to handle the delicate needs of plants. Our lineup offers green businesses sustainable vehicle solutions that are equipped to navigate these specific facilities and streamline productivity. Additionally, all of Columbia's transportation solutions are 100% electric, which means zero emissions and no noise pollution to potentially interrupt your customer's experience. While greenhouses tend to arrange their smaller flora in narrow aisles, nurseries often have vast distances between facilities and their product. So, whatever your business looks like, let's go over the many solutions our vehicles offer your horticulture team!
Nurseries need to be able to haul everything from large trees and saplings to shovels and stakes, and Columbia vehicles can be engineered with a variety of beds to accommodate those needs. For instance, Columbia's Payloader with a dump bed is perfect for hauling and dropping soil or fertilizer throughout your nursery. Additionally, our Utilitruck, with drop-side rails, is ideal for hauling saplings and equipment before unloading them with ease.
Since nurseries primarily operate outdoors, it is essential that vehicles are able to navigate uneven terrain for efficient travel while keeping product safe. Traveling from asphalt to dirt or gravel can take its toll on a vehicle's suspension; however, Columbia vehicles use a more robust suspension system that is built to withstand the rough and tumble terrain of everyday nursery work while protecting your plants.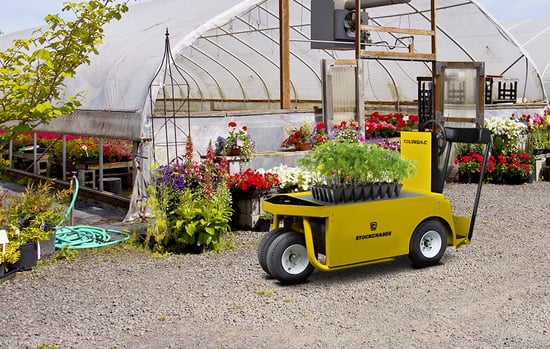 Like nurseries, greenhouse teams have specific and unique needs. Navigating tight aisles with large quantities of their fragile plant life can be tricky, but the Stockchaser is the vehicle that can handle it all! The large front bed carries up to 6 standard nursery plant flats, making it perfect for moving down long aisles or hauling a large purchase to your customer's car in one trip! The compact Stockchaser also boasts up to 6,000 lbs. in towing capacity, enough to haul 5.5 square yards of dry soil in each load! Because our Stockchaser also fits through a standard doorway, it will maneuver with finesse through your greenhouse aisles!
Since the tasks performed by workers in greenhouses and nurseries can be intense, operator comfort is a must! Columbia ensures that safety and comfort are taken care of by using marine-grade vinyl seating to withstand even the toughest elements. Practically every seat is adjustable for the shortest to the tallest of operators. This comfort is the cherry on top of our hard-working lineup of curated vehicles!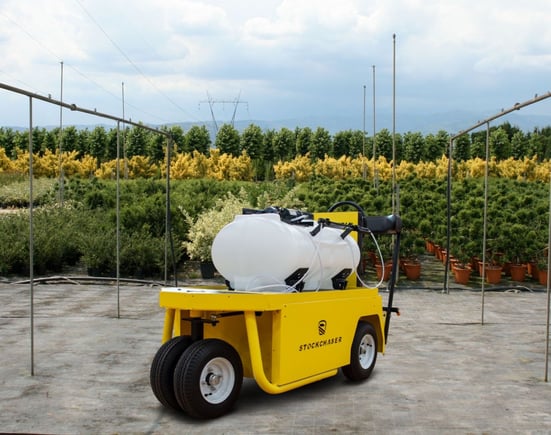 Columbia also recently innovated sprayer tank outfits for a few of our models. The Stockchaser, Utilitruck, and Payloader can all be equipped with a misting wand connected to a large tank for water or treatment fluid. The tank is easily removable so you can utilize the vehicle deck for other jobs when not employing the tank.
Whether you manage a small greenhouse with tight aisles or a 100-acre nursery, Columbia has the all-electric utility vehicle for you and your team! Find out more!